At the moment, electricity is the cleanest fuel available. In the EU, driving an electric vehicle (EV) today emits, on average, 78 grammes of CO2 per km, compared to 185g CO2/km average for fossil fuel cars. And electric vehicles will become even more climate friendly with the development of renewable sources of electricity such as solar panels and wind turbines.
Renewable electricity has the potential to power much more cars than biofuels. This is because using land to produce bioenergy is highly inefficient. For example, when using the same area, solar panels in Europe can fuel 108 times more cars than crops grown for fuel.
.
Power a car with biofuels or renewable energy
.
Electricity is 2.5 times more efficient than fossil fuels in terms of work it provides per unit of energy. In other words, vehicles powered by electricity travel 2.5 times further than internal combustion vehicles for the same energy input.
And electricity generation in Europe is increasingly cleaner. In 2016, 78.4% of all the new installed electricity generation capacity in Europe was wind and solar. For the first time, wind power became the EU's second largest form of power capacity after natural gas, overtaking coal. At national level, Germany hit a symbolic milestone for renewable power in 2016: at 2pm on a Sunday in May almost 100% of the entire country's energy was produced by solar and wind.
The cost of producing batteries for EVs is plunging. This is important because it's the principal cost of making electric cars. According to Bloomberg New Energy Finance (BNEF) and McKinsey & Co, the average price of lithium-ion battery packs for both battery electric and plug-in hybrid cars has fallen 65% since 2010 and is likely to keep declining, That boosted electric car sales.
EVs numbered just hundreds globally in 2005 but passed the 2 million milestone in 2016, According to the International Energy Agency, China, Europe and the US accounted for more than 90% of the 750,000 EVs sold in 2016. 2016 also saw over 200 million electric two wheelers on the road and 345,000 buses.
The plunging cost of batteries also means the cost of buying an electric car could be the same as an oil-powered car by as early as 2025, according to the most recent research by BNEF.
To promote electromobility in the Renewable Energy Directive II, the EU must:
Adopt stronger incentives for renewable electricity in transport, just like it does for sustainable advanced biofuels. T&E highlights in a

specific briefing

how the RED II could be designed in a way that incentivises further the use of renewable electricity;

Ensure that new renewable electricity capacity is built to meet transport's increased demand for electricity;

Oblige member states to enable all forms of renewable energy – not just biofuels – by creating a market for "clean fuel credits" to which all forms of sustainable renewable energy for transport can contribute to reach the 6.8% target. Otherwise almost all member states mainly support biofuels.

Align the advanced biofuels sub-target with a more cautious assessment of their availability at sustainable levels –

at 2.3%

instead of 3.6%. This provides more freedom for fuel suppliers to comply and creates space for renewable electricity in the advanced fuels target.
The Renewable Energy Directive can provide a push towards electromobility, but other policies will have a larger impact. The EU needs an ambitious zero-emission vehicle mandate on carmakers and stricter CO2 standards for vehicles in 2025. These policies will have a much higher impact on electrifying transport
Also, ensuring an accurate accounting system for measuring renewable electricity in transport is essential. Currently it is not measured but estimated based on various factors such as electric vehicle fleet size and an estimate of kilometres driven. Measurement is possible through measuring the electricity input to the vehicle for example by an on-board metering device. This would capture all charging irrespective of location.
Interested in the environmental impact of biofuels?
Sign up to receive our articles, publications and reports on the topic.
Advanced biofuels are also part of the solution
Using waste and residues (used cooking oil, forestry residues, organic municipal solid waste, cereal residues for example) instead of crops would mean that no new agricultural land is needed and the issue of clearing forests for agricultural land is addressed. The European Commission's proposal defines advanced biofuels as "biofuels that are produced from feedstocks listed in part A of Annex IX", with the Annex IX A being a list adopted in 2015 as part of the ILUC directive. The list includes materials which are not wastes and residues such as energy crops and pulpwood.
A report by the International Council on Clean Transportation (ICCT) shows that, in addition to their environmental benefits, the production of waste-based biofuels would result in significant job creation, with many of these jobs being in rural areas in Europe.
It must be noted though that advanced biofuels aren't a 'silver bullet solution'. For example, some of these residues are already being used for other purposes, such as the cultivation of mushrooms and livestock bedding. Or, in the case of agricultural and forestry residues, a sufficient amount should be left on the ground to ensure soil fertility, protect biodiversity and limit soil erosion. There is a limitation on how much of these waste and residues are available sustainably.
.
Transport & Environment RES-T proposal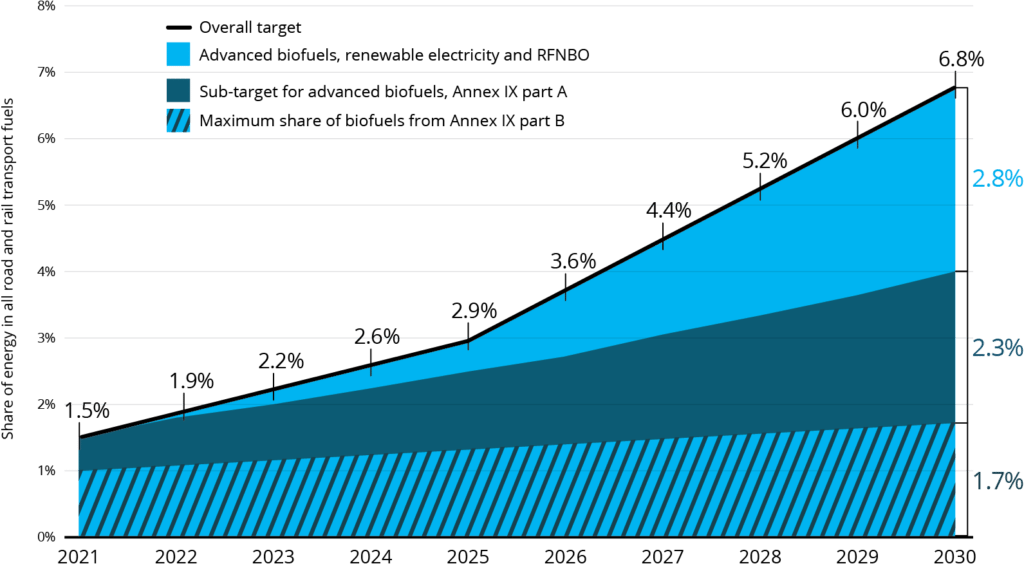 Source: Transport & Environment
.
The European Commision did not properly analyse the feedstock availabilities for advanced biofuels in their impact assesment. The proposed binding target level, at 3.6% for advanced biofuels, is high. The target level needs to reflect the sustainable availability of the advanced biofuels feedstocks and allow for a sustainable growth path. Based on an analysis on real wastes and residues, taking into consideration competing uses, a target level of 2.3% would be more appropriate.
In conclusion, advanced biofuels can make a contribution to reduce transport greenhouse gas emissions but only if proper sustainability criteria is put in place. Otherwise, there is a risk that their production will have negative environmental impacts.
FORCE OUT FOOD-BASED BIOFUELS
Phase out land-based biofuels
In parallel to the promotion of electricity and advanced biofuels, the support to food-based biofuels in the EU must stop.
The European Commission's proposal for a Renewable Energy Directive (RED II) in the period 2021-2030 suggests that the amount of food and feed-based biofuels that can be counted towards the overall EU RED target be decreased to 3.8% in 2030, down from 7% in 2021. This proposal goes in the right direction but falls short of solving the problem.
Currently, European food-based biodiesel is on average 80% worse than fossil diesel when taking into account projected indirect impacts. It is increasingly sourced from palm oil and has huge negative climate, environmental and social impacts.
Support for land-based biofuels should be completely phased out, especially given that EU policy does not take into account indirect land-use change emissions. We need to put our decarbonisation efforts into the long-term solutions now, and not focus on the past.